Monday, December 21, 2015
Beautifully written and hauntingly tense, DELICATE MONSTERS does not ask easy questions, nor offer easy answers. (And we love it for that!) Fortunately for the YA Diversity Book Club, author
Stephanie Kuehn
agreed to answer a few of
our
questions, and we loved getting deeper insights about her story, the three main characters, and the themes of cruelty, compassion, sex, violence, and identity.
Please describe your book in a sentence or two.
After getting kicked out of her third boarding school in four years for almost killing a classmate, seventeen-year-old Sadie Su returns to her hometown of Sonoma and quickly seizes on the opportunity to toy with an old childhood friend—Emerson Tate, a boy Sadie happens to know holds unbearable secrets inside of him. Meanwhile, Emerson's sickly—and possibly psychic—younger brother Miles has a vision of impending violence and seeks to discover what it is, setting off a chain of events in which the lives of all three teens unravel against the threat of this dark unknown.
What was your inspiration for writing this book?
There were lots of small things that inspired me. I wanted to write a female antihero, but not one anyone is meant to come to understand or who has a tragic backstory. I wanted to write a girl who is callous and cruel simply because she can to be. And I wanted to cast her against a boy who appears to be her opposite yet is similar to her in ways neither of them really understands. Both Sadie and Miles are people who see cruelty and compassion as zero-sum games, with Sadie determined to be the winner and Miles convinced that he's a loser.
I also wanted to write a book that explored how acts of violence can happen for different reasons and the ways in which these actions are perceived. My initial question was: If you have three people who all commit violent acts, and the first person is someone who owns her actions; the second person is someone who feels guilty and/or rationalizes what they've done; and the third person is someone who is impaired in some way…do these explanations even matter? Or is it only the outcome that counts?
These questions led me to plot out the story in such a way that the reader moves through shifting vantage points of empathy; there are no fixed answers as to who is good or bad. That was important to me. Rather than approach morality prescriptively, I wanted to write a story that allowed teen readers to parse these issues for themselves.
What kind of research did you have to do to make sure your characters were authentic?
Culturally, I interviewed a number of teens and young adults who identify as biracial (Chinese American and European American) about their experiences growing up, as well as young people who came to the US from China to attend college (which was how Sadie's father came to the United States). I also did a significant amount of research on family systems, personality disorders, paraphilias, abuse, parental loss, complex trauma, factitious and somatoform disorders—reading articles, books, watching videos, talking to clinicians who've treated teens struggling with these issues.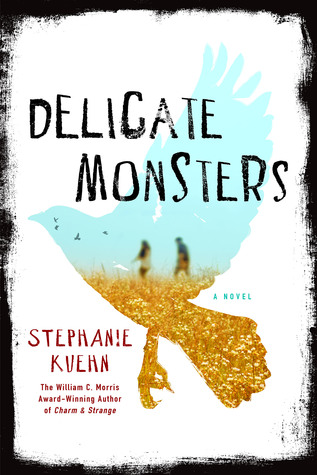 How did you come to incorporate the diverse elements in your book?
They were all there from the start, those elements. The book is about cruelty and compassion, victims and victimizers, and I wanted to show all the different places those dynamics play out: through perceived distinctions in class, education, race, ethnicity, gender, age, sexual orientation, mental health status, ability status. The characters bounce up against all of these lived experiences and have to reckon—for better or for worse—with the ways they use certain aspects of themselves to disempower or marginalize…as well as the ways they are simultaneously being disempowered or marginalized. Roman is the one person who ultimately models to Sadie what it might look like to disengage from this cycle of hurting to avoid being hurt, although what she takes from that is open to interpretation.
I know the book club asked in particular about Sadie's and Emerson's use of the n-word and why that word would come up if the vineyard workers they were around were primarily Hispanic (this is in reference to a childhood memory Sadie has of Emerson using "racial slurs" to refer to workers at her family's vineyard), which I actually think is a good example of how this cycle of cruelty = power is perpetuated. I conceived of young Emerson as being the kind of kid who would run his mouth about anything racist, sexist, homophobic, etc—whether he'd picked this up from his mother, his father, or the auto repair shop where his dad worked isn't specified. Conceivably Sadie would've heard a collection of these rants over the time they spent together, and that's why she picks that word to taunt him with years later when he mentions playing basketball.
But Sadie's recollection about him using racial slurs to address the vineyard workers is less about what words he uses in that instance, and more about her observation that he doesn't say anything about her father. She recognizes that he's using those words as a way to feel powerful—and that he feels disempowered by his family's poverty. Later, of course, Sadie shames Emerson with his own words so that she can feel powerful.
How does the diversity in your book relate to your life?
I think all the aspects of diversity in the book are grounded from experiences in my life and the world around me. Biracial identity is important to me, personally, and while I don't share the same background as Sadie, the negative space notion—that is, being defined by where you don't fit in, not where you do, is one that I relate to. The interracial relationship between May and Emerson obviously has a lot of tension unrelated to race, but the elements of racism in their connection were important for me to convey. I feel like so many interracial relationships are written in such a way as to make the white character appear somehow free from bias, even when other people around them hold different views. That never feels authentic to me.
But beyond that, the core experiences in the book center around feeling like a bad person—having bad thoughts, wanting to hurt people who care about you (or wanting to hurt them because they care about you), using and demeaning others for one's own benefit, or feeling worthless because you've been demeaned. These aren't nice thoughts or actions, but they do happen. I don't think we get anywhere or help anyone by pretending experiences like these don't exist or by dehumanizing those who are involved in them.
What are some of your favorite YA books about diverse characters?
Pointe
by Brandy Colbert
The Vast Fields of Ordinary
by Nick Burd
Conviction
by Kelly Loy Gilbert
Everything Leads to You
by Nina Lacour
Stick
by Andrew Smith
47
by Walter Mosley
All Our Pretty Songs
by Sarah McCarry
Starglass
by Phoebe North
Last Night I Sang to the Monster
by Benjamin Alire Sáenz
What areas of diversity do you want to draw attention to or do you feel are underrepresented in books?
More than anything, I'm interested in exploring the intersection of mental illness with the psychology of adolescence. There are certain narratives or ways we talk about mental illness and teenagers that get told over and over again that I personally find disempowering, and also very limiting. There needs to be room for different types of stories. Even the really hard ones.
The characters in
Delicate Monsters
are all difficult people, but it was important to me to write each of them with the deepest of empathy. To see them as human is not to excuse their actions. Rather it's a chance to expand our understanding of humanity—to look where we usually choose to look away. I wouldn't write YA if I didn't believe that all teens deserved to have their stories told. And I wouldn't be a therapist if I weren't always, always willing to listen.
* * * *
Want more DELICATE MONSTERS? Be sure to check out all of our great posts:
•
Our book club's discussion
at Teen Lit Rocks
•
"Delicate Monsters: Further Reading (and Giveaway!)"
at The Reading Date
The
entire YA Diversity Book Club archives
can now be found on Tumblr, along with information about our
upcoming book selections
.
Next month we will each be reviewing our favorite diverse reads from 2015 (even if they weren't our featured in our book club) and spotlighting a few diverse reads we're looking forward to in 2016!
about us
social
on the shelf
© 2011 All words & images above are the creation/property of We Heart YA unless otherwise credited. Powered by
Blogger
.
have a heart