Tuesday, September 8, 2015
What book on your shelf right now have you owned the longest without getting around to reading it? Why haven't you read it?
Kristan:
Ohhh, you caught me. I have a LOT of these kinds of books.
The oldest ones are probably
CATCH-22
and
COLD SASSY TREE
, both free from my high school journalism teacher, who was cleaning out her shelves at the end of the year. (Omg high school was so long ago.) I haven't gotten around to them because my TBR pile grows faster than I can read! And usually the "fresher" ones feel more urgent/exciting to me, so I read them first.
But I do go back and prune from time to time, which can bring older titles to my attention again. The ones that don't get cut, anyway. :P I'm sure I'll get around to them all someday...
Ingrid:
Okay, I looked at my (very big) pile of TBR books and found these three:
The Elegance of the Hedgehog by Muriel Barbery
Miss Peregrine's Home for Peculiar Children by Ransom Riggs
The Hiding Place by Corrie Ten Boom
These three have been on my pile for awhile now and I think I keep passing them up for the YA books I love to devour. But now that you've reminded me, Steph, I think I'll put these front and center!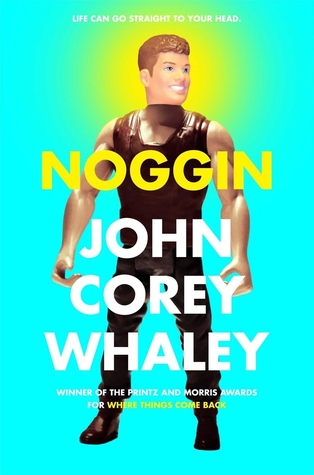 Sarah:
NOGGIN by John Corey Whaley
SAY HER NAME by James Dawson
SEVEN SORCERERS by Caro King
These are the top three that have sat longest on my shelf, mostly because I have to be in the mood for each of them. Quirky contemp used to be my sweet spot and I know that NOGGIN would satisfy, but I've had enough for a while. Andrew Smith sort of broke that for me. I've wanted to read a good (non-gory) horror and James Dawson is a rising UK talent so no doubt I'll get on that soon. Same with high fantasy. I have to be in the mood or I lose patience with the detail and pacing that, when I'm down for it, is one of my favourite aspects of the genre.
Stephanie:
Most of my books are actually packed away right now, waiting for me to finish restoring my new (old) house. So I'm sure I have books
much
older than the one I'm going to talk about.
The book I've had the longest that I've not yet read is
Mistwalker by Saundra Mitchell
. I'm still really excited about reading it, but I just haven't got around to it. Lately, I've been mostly listening to audiobooks, which I can get through while driving or folding laundry or working.
about us
social
on the shelf
© 2011 All words & images above are the creation/property of We Heart YA unless otherwise credited. Powered by
Blogger
.
have a heart