Friday, March 27, 2015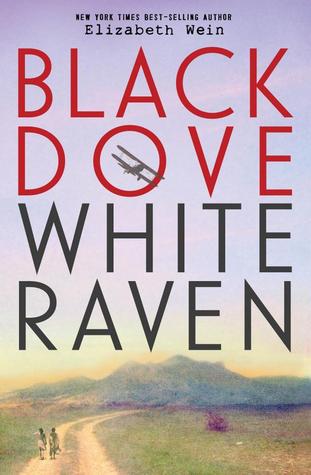 To this day,
CODE NAME VERITY
can bring me to tears. All I have to do is think about that scene on the bridge.
Kiss me, Hardy. Kiss me quick!
(Seriously, I just teared up typing that.) So when the YA Diversity Book Club was picking what to read for March, Elizabeth Wein's latest, BLACK DOVE WHITE RAVEN, instantly got my vote. Here's a bit about the book, and below that, our group discussion about Wein's incredible novel, including what we learned, what we loved, and why it reminded us a bit of FANGIRL and JELLICOE ROAD.
Emilia and Teo's lives changed in a fiery, terrifying instant when a bird strike brought down the plane their stunt pilot mothers were flying. Teo's mother died immediately, but Em's survived, determined to raise Teo according to his late mother's wishes-in a place where he won't be discriminated against because of the color of his skin. But in 1930s America, a white woman raising a black adoptive son alongside a white daughter is too often seen as a threat.

Seeking a home where her children won't be held back by ethnicity or gender, Rhoda brings Em and Teo to Ethiopia, and all three fall in love with the beautiful, peaceful country. But that peace is shattered by the threat of war with Italy, and teenage Em and Teo are drawn into the conflict. Will their devotion to their country, its culture and people, and each other be their downfall or their salvation?
* * * * *
The Reading Date:
I thought BDWR was such a rich story. A little slow to start off with but a good payoff.
We Heart YA:
ditto what Lucy said. i did read Code Name Verity though, so i kind of knew to expect that
Gone Pecan:
I think it not being set up in chapters slowed it down even more for me
Teen Lit Rocks:
I don't know that I found it "slow," just it's obviously a lot of background. I really connected to the prose and the early stories about Delia and "Mama"
The Reading Date:
Yes Sandie I loved the mom's story and wish that was the focus.
Teen Lit Rocks:
In fact, for a tiny moment I thought maybe the moms were more than best friends, but then I realized it was that they shared this soul mate bond that neither woman had with a partner
We Heart YA:
haha i wondered the same thing, sandie. and i think it's OK for that to be a possibility or a question mark.
The Reading Date:
The thought crossed my mind too.
Gone Pecan:
I'm sure it crossed all of our minds, lol
The Reading Date:
Well we search for the diverse themes in our reading
We Heart YA:
that said, i kind of liked papa menotti
Teen Lit Rocks:
I liked him too; he obviously needed her more than she needed him
Gone Pecan:
I loved her family and how they were just so open and accepting.
The Reading Date:
Yes the family theme was wonderful. Rich characterization.
Teen Lit Rocks:
I love strong sibling relationships, and this one was such a heartbreakingly close character study of how siblings really know you better than anyone else at a certain moment in your life -- especially if you move around a lot
The Reading Date:
They didn't fight like siblings though
We Heart YA:
well, and i loved that they were siblings with no blood between them. i have that kind of a sister in my life
Teen Lit Rocks:
Yes -- but they were raised like siblings so not really like best friends you consider a sibling I don't mean you -- just in general -- they had such a unique relationship because of their moms Which of course is why it seemed like two moms and their kids. because it was! They didn't differentiate between your kid and my kid
We Heart YA:
haha which got them in trouble sometimes! like with the passport junk
Teen Lit Rocks:
oh that was awful. How many of you were familiar with Ethiopian history? Was this new territory for you?
Gone Pecan:
completely new to me
We Heart YA:
entirely new for me, and i loved learning so much!
The Reading Date:
This was new for me and it seemed like the author had completely done her homework.
Teen Lit Rocks:
I knew about Haile Selassie but mostly because of how Rastafarians idolize him. I also knew about the Italian Abyssinian war, but I didn't know specifics
Gone Pecan:
I feel like Ms Wein would outsmart me with a sneeze
We Heart YA:
LOL oh Kristina I so want to tweet that
Teen Lit Rocks:
OT: My neighbors are Ethiopian and they have a large painting of Haile Selassie in their home.
The Reading Date:
On that note, do you think teenagers are reading these books or do they have more appeal to adults?
We Heart YA:
there was a LOT of information in here, but it was presented interestingly. whereas i've read other books that had tons of historical research, and it felt like the story took a backseat to showing off the information (which i hated)
Gone Pecan:
I felt a lot of the info going over my head at times and had to reread it.
We Heart YA:
i have to admit, i don't have a good sense of whether or not teens are reading wein's stories... i THINK code name verity was popular with teens? but wein's stories are certainly more demanding of a reader than other YA books we've read (which i appreciate, personally) (i don't ALWAYS want to work, but i think it's good to stretch your brain sometimes!)
The Reading Date:
It seems like you have to have a real sophisticated interest in history or aviation
Teen Lit Rocks:
I don't know -- the adventure and the imaginative stories seem universal. I guess for me, this is the kind of book that proves YA isn't all Stephanie Perkins kissing books (even though I love them!)
We Heart YA:
oh, i wanted to talk about the stories that em and teo wrote bc it reminded me of the fanfic sections of rainbow rowell's FANGIRL
The Reading Date: Yes Kristan I did appreciate that I was learning something new here. And I love the FANGIRL comparison! I didn't think of that.
We Heart YA:
so, with fangirl, as much as i LOVED that book, i didn't really care about the simon snow fanfic sections. whereas here, i think bc the stories were more directly correlated, i found myself (slightly) more engaged with those sections (though they still didn't feel *essential*)
Teen Lit Rocks: I loved how they were related to what was going on, and they made me feel more connected to the kids.
We Heart YA:
yeah the stories really reinforced how much em and teo connected to that daydream world together
The Reading Date:
This is a sophisticated, experimental read yes, but I did get a little lost in the details and what/when we were.
We Heart YA:
i was kind of iffy on the whole found documents / flight log / school essay format, actually. it totally works, but i think a straightforward narrative would have worked too
Gone Pecan:
I'm not a fan of "found" documents
Teen Lit Rocks:
But there are plenty of books that use journals, letters, found objects, etc. Like Why We Broke Up, for example Or Jellicoe Road with the story within the story
We Heart YA:
i did sometimes too, lucy. for the most part in fantasy or historical novels, i feel like having a perfect understanding of the geography or the timeline usually isn't essential (at least to me) so i dont sweat it lol funny you mention jellicoe, bc that's one where i REALLY wanted the story to be told in a straightforward way (i did end up loving that book though)
The Reading Date:
I haven't read either of those but I'm generally okay with a journal format. I think though they work better for me in contemporary stories.
Gone Pecan:
Finally! someone else who hasn't read JR!!
We Heart YA:
(just like i still really like this one)
Teen Lit Rocks: Oh good I was worried I was the only one who actually liked this book
We Heart YA:
oh no, i really, really like this book! there is SO MUCH going on, and it's a beautiful slow build around such amazing interesting characters. i'm just nitpicking structure stuff, haha. the content is fantastic
The Reading Date:
No, no I have a lot of respect for what Wein did here. It just was outside of my comfort zone.
Teen Lit Rocks:
And for once, I didn't care a stitch that there was zero romance. Usually I miss romance, but not in this book
The Reading Date:
I didn't miss the romance either Sandie, not at all.
Gone Pecan:
I have issues with the slow building. But that is with any book that isn't fantasy
Teen Lit Rocks:
Totally understood, Lucy and Kiki. That's interesting, because I think fantasy books have slow worldbuilding too! There's just more action
We Heart YA:
to me, this book (and maybe all of wein's work?) is like a nice, inventive meal that i go out to every once in a while and want to enjoy in a leisurely fashion. versus when i'm just hungry and need to eat something quick and tasty
Teen Lit Rocks:
YES -- like a special occasion dinner that you remember but you can't afford to do all the time
Gone Pecan:
yes. Def not a quick read but a good one!
We Heart YA:
in terms of diversity, there was like everything under the sun
Teen Lit Rocks:
Religion, race, culture, geography
We Heart YA:
religion, culture, race, socioeconomic status...
Teen Lit Rocks:
hahahah
The Reading Date:
Jinx!
Teen Lit Rocks:
buy me a Coke!
We Heart YA:
deal
Teen Lit Rocks:
:)
We Heart YA:
i really, really enjoyed it. like, there was so much to engage with. and omg the slavery revelation was heartbreaking...
Teen Lit Rocks:
Like Em, I was mad at Delia too, when I discovered the truth about Teo. Do all of you have siblings?
Gone Pecan:
I do
The Reading Date:
I have a sister
We Heart YA:
er, i'm an only child, but i have my sister-person (mentioned earlier) as well as 2 half-sisters (much older, i didn't grow up with them)
Teen Lit Rocks:
I'm much younger than my siblings, but we are orphaned now, and we need each other in a way that's hard to explain to people with living parents and in a way, these kids were on their own too -- even though Em's parents are alive
Gone Pecan:
I've noticed more how we've "tightened" up our relationships between myself and my siblings since my mom has been sick. I feel like I'm kind of raising my younger niece with my sister at times since we are together so much.
Teen Lit Rocks:
K-- yes, you start to see how only you know what it's like to have her for a mom, and you need each other to get through it...
The Reading Date:
Yup when my sister and I lost our mom our relationship evolved that way too.
We Heart YA:
there are a lot of great lines in here about em/teo realizing that adults are fallible, that they are human and can't fix/save everything, and that teens have to take care of themselves sometimes too
Teen Lit Rocks:
Yes, and his final letter to Mama, I cried.
The Reading Date:
That was touching Sandie.
Teen Lit Rocks:
Her Author's Note is amazing. I could see this being taught in high school.
The Reading Date:
That's what I was thinking too, that it could be a resource for history classes.
We Heart YA:
oh for sure. more so than cnv even. it really brings life to a lot of historical issues from that time. the history/origins/evolution of slavery, the colonization of africa, the start of world war 2, the use of poison gas (evolution of warfare), how women have been treated both historically and culturally
The Reading Date:
Wein seems really passionate about history, friendship and aviation and that really comes across in her books. It really reinforces and makes the history come alive.
Teen Lit Rocks:
I'm so glad we had an opportunity to read this, because also, she is not one of those 27-year-old YA authors.
The Reading Date:
She does have a distinct, refreshing pov.
Gone Pecan:
Yes! She is older. Win for the older ladies!
Teen Lit Rocks:
I sometimes feel like YA authors are all expected to be right out of college, but Wein is 50
We Heart YA:
i think you can tell her stories are richer and more mature than most (but not all!) young YA writers'
The Reading Date:
There's so much to unpack in this novel I can see myself revisiting it sometime.
We Heart YA:
ditto, lucy. i know i want to go back to CNV someday too, for the same reason
Teen Lit Rocks:
I also was intrigued by Rhoda's moral ambiguity about the photos -- until the end. She was a true Quaker -- trying to stay out of the confrontation. And Quakers were early abolitionists, so it made sense to me that Wein made Rhoda come from a family of Friends
We Heart YA:
hm, funny, i always felt like she struggled to fit into her quaker roots. like, it was part of her, the way it would be if you grew up with it, but that she was a little too fiery to really fully fit
Teen Lit Rocks:
Yes, she did, but it was still there. Just like with Aysel
We Heart YA:
Rhoda was biased in favor of ethiopia too
Teen Lit Rocks:
Right of course, once she understands the scopes, she knows which side she is on because she can't be neutral when her son's life is at stake. But I thought the Quaker background made the way her parents embraced Teo believable
We Heart YA:
*nods* brief though their appearances were, i liked em's grandparents
Teen Lit Rocks:
Yes me too. Even the supporting characters felt fully fleshed out to me. That's rare in a book where so many characters are just tropes
We Heart YA:
yes! omg like horatio augustus, or mateos, or the other italian captain (not em's father). fully characterized in such a short space. hehe his "stinkbug" glasses
Teen Lit Rocks:
Even the Emperor!
The Reading Date:
Wein's definitely got strong writing chops. I bet you want to dive into her other books now, Sandie
Teen Lit Rocks:
If I didn't have to read a bunch of other books for work, yes! I think this is an excellent example of a writer thoroughly researching outside of her experience for a book.
The Reading Date:
Definitely. It's not my typical read and I enjoyed learning something new.
Honestly BDWR was so rich with material that we could have talked about a dozen other facets if we'd had the time. Have you read it? What did you think?
* * * * *
For more on BLACK DOVE WHITE RAVEN, be sure to check out all of our features:
• Lucy at The Reading Date has a
Q&A with Elizbaeth Wein
, along with a BDWR giveaway!
• Kristina at Gone Pecan has suggestions for
other great books to read if you liked BDWR
• Sandie at Teen Lit Rocks is talking about
what we learned from BDWR
Next month we're reading
AN EMBER IN THE ASHES by Sabaa Tahir
. Please feel free to join us! You can also visit
the full archive of YADBC posts
and
#YADiversityBookClub tweets
.
about us
social
on the shelf
© 2011 All words & images above are the creation/property of We Heart YA unless otherwise credited. Powered by
Blogger
.
have a heart