Thursday, April 30, 2015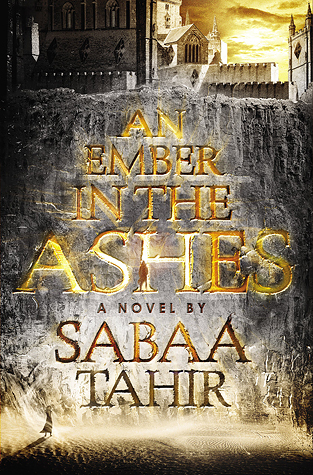 The YA Diversity Book Club has been going strong for almost a year now. (Woohoo!) Recently we realized that all of our selections so far have been either contemporary or historical -- i.e., realistic fiction. Wanting to broaden our scope and examine diversity in other genres, we looked to Sabaa Tahir's much talked about debut, AN EMBER IN THE ASHES.
Here's a brief description of the story:
Laia is a slave. Elias is a soldier. Neither is free.

Under the Martial Empire, defiance is met with death. Those who do not vow their blood and bodies to the Emperor risk the execution of their loved ones and the destruction of all they hold dear.

When Laia's brother is arrested for treason, Laia is forced to make a decision. In exchange for help from rebels who promise to rescue her brother, she will risk her life to spy for them from within the Empire's greatest military academy.

There, Laia meets Elias, the school's finest soldier -- and secretly, its most unwilling. Elias wants only to be free of the tyranny he's being trained to enforce. He and Laia will soon realize that their destinies are intertwined -- and that their choices will change the fate of the Empire itself.
To be perfectly honest, after reading EMBER, I'm not sure that I would classify it as a diverse read. The world-building seems to draw from multiple sources -- most notably Ancient Rome, and a little from the Kashmir region -- but none of them comes through strongly enough for me to feel that I've learned more about a specific culture. That said, Tahir spun those influences into a wholly original setting and society, which is no small feat! And of course she is a diverse author -- a woman of color -- which I think is significant.
(Also, as Sandie pointed out in
our group discussion
, that still fits the We Need Diverse Books mission/criteria.)
Anyway, EMBER is a riveting and thoughtful read. For me, one of its strongest points was the dual POV structure. Sometimes two characters can sound too much alike, or the author will cover the same ground from both perspectives. But in EMBER, Elias is confident and wry, while Laia is fearful but determined, and each of their sections moved the story forward, adding information and building tension until the explosive (wink wink) end.
Interestingly, several other diverse books that we've read recently also featured dual POVs.
LIKE NO OTHER by Una LaMarche
was YA Diversity Book Club's very first selection! A Romeo & Juliet story set in Brooklyn, between a Hasidic Jewish girl and a West Indian boy.
THE WALLED CITY by Ryan Graudin
technically features three point of views. Two girls and one young man struggle to escape a rough-and-tumble neighborhood inspired by the real life area of Kowloon in Hong Kong.
LIES WE TELL OURSELVES by Robin Talley
was another YADBC pick. Two teenage girls in Virginia grapple with their sexuality during the era of de-segregation.
THE STORYSPINNER by Becky Wallace is a Brazilian-flavored high fantasy novel. It actually rotates between several characters, but due to 3rd person narration it still feels focused on the two protagonists, Johanna the storyspinner and Rafael the young duke.
What other novels do you think use dual POVs really well? Or are there any coming out soon that you're excited about? We want to know!
* * * * *
For more on AN EMBER IN THE ASHES, be sure to check out all of our great features:
•
Our group discussion
at the
Reading Date
•
Q&A with Sabaa Tahir
at
Teen Lit Rocks
•
Standalone or Series?
at
Gone Pecan
Next month we're reading
SIMON VS. THE HOMO SAPIENS AGENDA by Becky Albertalli
(which
the Gay YA Book Club recently discussed on Twitter
). Please feel free to join us by reading along! You can also visit
the full archive of YADBC posts
and
#YADiversityBookClub tweets
.
about us
social
on the shelf
© 2011 All words & images above are the creation/property of We Heart YA unless otherwise credited. Powered by
Blogger
.
have a heart