Friday, October 30, 2015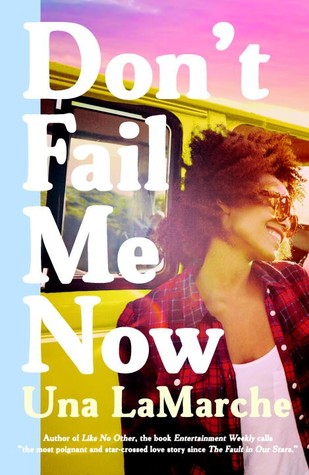 The very first book we ever read for
YA Diversity Book Club
was LIKE NO OTHER by Una LaMarche. Now Una has notched another first with us: She's the first author that we've read twice!
This month's selection was her latest,
DON'T FAIL ME NOW
, a delightful road trip novel with tons of diversity.
Michelle and her little siblings Cass and Denny are African-American and living on the poverty line in urban Baltimore, struggling to keep it together with their mom in jail and only Michelle's part-time job at the Taco Bell to sustain them.

Leah and her stepbrother Tim are white and middle class from suburban Maryland, with few worries beyond winning lacrosse games and getting college applications in on time.

Michelle and Leah only have one thing in common: Buck Devereaux, the biological father who abandoned them when they were little.

After news trickles back to them that Buck is dying, they make the uneasy decision to drive across country to his hospice in California. Leah hopes for closure; Michelle just wants to give him a piece of her mind.

Five people in a failing, old station wagon, living off free samples at food courts across America, and the most pressing question on Michelle's mind is: Who will break down first -- herself or the car? All the signs tell her they won't make it. But Michelle has heard that her whole life, and it's never stopped her before....
In a lot of ways, I am not like Michelle. I am not half-black; I did not grow up impoverished in inner city Baltimore; my mom is not a junkie; and my dad did not abandon me.
But in certain ways, I am like Michelle. On a superficial level, being half-Asian I can identify with belonging to multiple cultures and looking mixed. On a much deeper emotional level, I know what it's like to share a father with another family that's very different from my own.
My dad was married and had two daughters (and then got divorced) before meeting my mom and having me. I didn't really understand what that meant when I was little, and I didn't meet my half-sisters until I was 9. Like Michelle and Cass with Leah, I think they were wary of me, and maybe a bit resentful. But over time we've gotten to know each other better, we've gotten closer, and we've all realized that no matter what happened between our parents, we're family.
I think that theme is the strongest part of DON'T FAIL ME NOW. Family isn't just about blood -- it's about who we choose and how we treat them.
I especially liked that Michelle's family turned out to be so diverse -- in terms of race, socioeconomics, personality, and much more. Because that's how life is nowadays -- according to my personal experience, and national statistics. :P
DON'T FAIL ME NOW was a fantastic contemporary YA, managing to blend serious issues with humor and hope. I loved it.
In a similar but more mature vein, Tayari Jones's
SILVER SPARROW
also deals with half-sisters and secret families.
* * * *
For more about DON'T FAIL ME NOW, be sure to check out all of our great posts:
•
Our book club's discussion
at the Reading Date
•
Q&A with author Una LaMarche
at Teen Lit Rocks
The
entire YA Diversity Book Club archives
can now be found on Tumblr, along with information about our
upcoming book selections
.
Hope you'll join us in reading diversely next month! We'll be diving into
CARRY ON by Rainbow Rowell
, her fantasy spinoff (sort of) from FANGIRL.
about us
social
on the shelf
© 2011 All words & images above are the creation/property of We Heart YA unless otherwise credited. Powered by
Blogger
.
have a heart