Friday, February 26, 2016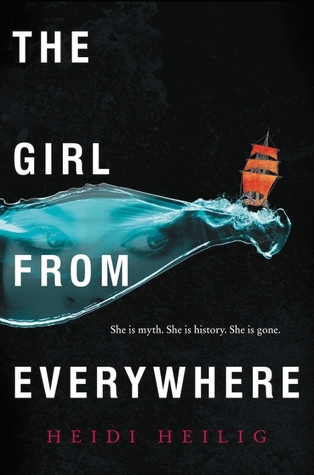 Inspired by world mythology, maps, politics, and most of all Hawaii,
THE GIRL FROM EVERYWHERE by Heidi Heilig
is unlike any book we've read so far for the YA Diversity Book Club. It also falls into the
#ownvoices
movement, which is very cool. Have you read it? Here's what our book club thought:
What were your first impressions of The Girl From Everywhere?
We Heart YA:
I
loved
Heilig's writing and characters. The descriptions really drew me in; the story was very cinematic. The sailing, the mythology, the thieving… Lots of elements that I
adore
.
The Reading Date:
YES the writing is descriptive and lovely. This one was out of my comfort zone but I could still relate to some of the family issues presented.
Teen Lit Rocks:
I read PASSENGER earlier this year and loved it, so I wasn't sure what to expect from another book featuring a time-traveling girl on an old ship looking for answers about where she belongs. But, I was pleasantly surprised and enjoyed it (even though I am not fond of the love triangle trope), but not as much as PASSENGER.
We Heart YA:
Just curious, because I was intrigued by PASSENGER too: Are they actually similar? Or just both have the time travel/ship thing in common?
Teen Lit Rocks:
There are also pirate and father-child issues, multi-culti romance, etc. I would say there are similarities, but there's more of a good vs. evil race in that one, whereas this is more of a heist type of story. There's more immersion in the various locales/time periods in PASSENGER, while GIRL stays mostly in Hawaii with brief moments in other settings. Anyhow, I highly recommend PASSENGER, especially since you enjoyed this story.
The Reading Date:
I had read the PASSENGER comparisons which makes me curious to check it out sometime.
Maps, Time Travel, Pirate Ships and Dragons, oh my! How did you enjoy the time travel aspect of the story- was it easy to follow?
We Heart YA:
At first I was worried the "timey-wimey" stuff would feel overwhelming to me, but because the writing was so strong in every way, I felt like the author knew what she was doing, so I trusted her with the time travel element too. And it did start to make sense pretty quickly -- as much sense as time travel can make, anyway! The only time my head kind of hurt was when Nix and Auntie Joss talked about Joss's past and future… (Don't want to say much more than that, because spoilers! Also because I'm still not sure I fully understood it, lol.)
The Reading Date:
Er, yeah, sure, I could totally follow all the time travel stuff! OK, I got a little lost, but like you I went along for the ride.
Teen Lit Rocks:
I was kind of bummed the maps didn't make it into the ARC. I think it would've been helpful to see the Maps she described. Time travel stories tend to create a paradox and a set of rules you have to keep straight, and it was mostly OK in this one, except it took a couple of read-throughs of the Auntie Joss situation for me to figure it out.
We Heart YA:
Yeah I probably need to reread that exchange... By the way, the maps are viewable on Amazon! But I didn't realize that until after I'd gotten pretty far into the book, and I have to say, I appreciated that I could follow the story easily without them. Sometimes in fantasy novels I'm hopelessly lost without the maps, and I hate that.
The Reading Date:
I'm the odd-man out that doesn't particularly care to refer to maps when I'm reading. I'd like to get everything from the text, but maybe in this case it would have been helpful to view the maps.
This own-voices book features a mixed-race heroine ("hapa haouli/haole") and her bipolar father. Did this novel broaden your perspective in some way?
We Heart YA:
Haha, well first of all, I'm biased because I'm a halfie (hapa) too! So I was really excited to read this story, about a halfie, by a halfie.
We Heart YA:
Unless I missed it, the book never actually uses the word "bipolar," which I think is an interesting choice. (Not right or wrong, just interesting!) To be honest, I don't think I would have picked up on that specific trait/diagnosis for Slate, had I not been told. For me, his dominant issue was his addiction, and I thought that was portrayed and handled really well.
The Reading Date:
I didn't get that the father was bipolar either but only read about it through author interviews, including our book club q&a. And yes, I love own voices stories and was glad that the author felt comfortable enough to share some of her experience in the book.
Teen Lit Rocks:
I didn't pick up on the father being bipolar at all. I thought of him as a perpetually grieving opium addict who was so focused on getting back to one timeline he couldn't see what was going on with his own daughter. I thought it was interesting how Kash, who was Persian, glossed as "half caste" (in India that meant a European dad and an Indian mom). That helped describe his looks to me. But can I take a moment to tell you that my friend Lauren (of Love Is Not a Triangle) and I have a joke about the disproportionate number of love interests with green eyes? Ha.
We Heart YA:
Oh yeah, that's definitely a thing. (Trope. Cliché.) My friend Linda wrote a great blog post about it, especially as relates to ASIAN characters (who are statistically almost never going to have green eyes). Link for anyone who is curious…
http://wistfullylinda.blogspot.com/2012/09/part-3-green-eyed-asian-love-interest.html
The Reading Date:
That blog post is a must-read. Thanks for the link!
What did you think of the character development? Any characters particularly stand out to you?
The Reading Date:
My favorite character by far was Kashmir. I think he brought a lot of life to the story.
Teen Lit Rocks:
I LOVED Kashmir as well. He was wise beyond his years, clever, kind and so obviously willing to do anything to help and protect his amira.
We Heart YA:
I actually think Nix was my favorite (except for her name, which inexplicably bugged me). Like many "strong female protagonists" in YA, she is hyper-competent at an unusual skill, but Heidig did such a good job presenting her as fully formed -- i.e., flawed and vulnerable too -- that I didn't mind in the least. She struck me as a normal (smart) girl who made the most of a strange upbringing, rather than a special snowflake who excelled at everything.
We Heart YA:
But yes, lol, after that, Kashmir. He's a bit like Aladdin, right? The charming rogue with a heart of gold.
This book takes you from modern-day New York to 1868 Hawaii. (The author talks about how she was inspired to write this story by a newspaper article about an act of piracy in Honolulu.) How did you enjoy the historical aspect of the story? Did it make you yearn to travel to Hawaii?
The Reading Date:
I thought the setting was unique and it definitely made me want to go back to Hawaii.
Teen Lit Rocks:
I have only been to Hawaii once, but it was amazing. It was obvious, though, that there are lingering tensions between the native Hawaiians, the Mainlanders, and even the Missionaries… Hawaii is a fascinating place; this book reminded me of the themes in THE DESCENDANTS.
We Heart YA:
Ditto what Sandie said. I really liked getting a deeper look at Hawaii before it joined the US. I think the richness of the indigenous culture really came through.
What did you think of the romance/love triangle?
We Heart YA:
Sigh. It was fine -- I get it -- but my heart was always, always with Kash.
The Reading Date:
Hear, hear! #TeamKash
Teen Lit Rocks:
I found the other love interest bland and almost forced by comparison to Kash. I understood her reasoning and felt like "Finally," but then the other guy (who is sweet but vanilla) kept popping up. I am NOT a fan of that ambiguity.
Did any particular passage or scene stand out to you?
The Reading Date:
Heilig has a captivating way with words that elevated the story. I didn't note any particular passages but was impressed with the writing overall.
We Heart YA:
Same.
Teen Lit Rocks:
Honestly, I enjoyed the conversations between Kash and Nix when they reminisce about their pasts, how he came to join the crew, and how they're both basically orphans who have only the Temptation… and the people on it.
Can you picture The Girl From Everywhere as a movie? Who would star?
We Heart YA:
Absolutely! Like I said, the writing unfolded so cinematically for me. I would cast unknowns for Nix and Kash… And then I would love Tate Ellington (from Quantico) for Slate, and maybe Uzo Aduba (from Orange Is the New Black) for Bee?
The Reading Date:
Great casting choices! Yes, I can totally see Tate Ellington for Slate.
Teen Lit Rocks:
I pictured Slate as a little older than that. For Nix, I pictured someone like a younger Malese Jow or Sophie Wu (obviously not them, since they're older). As for Kash, I pictured him a bit like this Persian model:
https://www.pinterest.com/pin/542613455079367964/
here's another photo
https://www.pinterest.com/pin/542613455079367733/
(yes, that Pinterest page is called Hot Persian Men).
We Heart YA:
Lol. Oh yeah, Kourosh Sadeghi definitely fits my mental image for Kash. (I had never heard of him, I'm just going off those pics.) And a young Malese Jow would be perfect! (She's "unknown" enough for me.)
The Reading Date:
Ooh I like Malese Jow for Nix. I saw Forever Young Adult suggests Janel Parrish for Nix --
http://foreveryoungadult.com/2016/02/24/the-girl-from-everywhere/
-- which I also like.
The Reading Date:
And whoa, those green eyes on that Persian model!!
If you could time travel to any time/place where would you go?
The Reading Date:
I'm not really one for looking backwards, though I'd like to go back a few years so I could hang out with my mom some more. Also, to go back and buy tickets to Hamilton!
We Heart YA:
Omg, LOL, right? Or maybe I'd go forward in time to when Hamilton isn't the only thing everyone can talk about. (Note: I'm sure it's fabulous and I really want to see it, but Crazy Hype in general bugs me.)
Teen Lit Rocks:
Oh, I love HAMILTON, but I love a lot of musical theatre. Time travel stories make me think of that controversial Louis C.K. bit where he says only white men have the privilege of time travel. People of color and women can't go back to most time periods and still have freedom. But as an observer, I think I would've enjoyed visiting the '20s because it was a decade of promise, the Harlem Renaissance, the youth culture, the dances, the gorgeous clothes.
We Heart YA:
Dang, good point, CK...
Anything else you'd like to add?
The Reading Date:
A fun, unique, and adventurous story overall, even though I did get a little lost in the details sometimes.
Teen Lit Rocks:
Do you know if there are sequels planned? And hello, how could anyone be anything but Team Kash?
We Heart YA:
I know Heilig recently turned in edits on a sequel! I think there are only these 2 books planned, though. Regardless, I would check out anything by her. Her storytelling was so thoughtful and imaginative, and her writing was just great. Plus, there's the obvious commitment to diversity! ;)
* * * * *
For more on THE GIRL FROM EVERYWHERE, check out:
•
Q&A with author Heidi Heilig
at The Reading Date
•
"Love the One You're With"
at Teen Lit Rocks
The
entire YA Diversity Book Club archives
can now be found on Tumblr, along with information about our
upcoming book selections
.
Next month we're reading
IN REAL LIFE by Jessica Love
. Join us!
about us
social
on the shelf
© 2011 All words & images above are the creation/property of We Heart YA unless otherwise credited. Powered by
Blogger
.
have a heart