Thursday, September 18, 2014
Last week, thanks to an invitation from
Joseph-Beth Booksellers
, Stephanie and I had the pleasure of meeting
Sandy Hall
, the first author to be discovered and signed to the
Swoon Reads
imprint. Swoon is an exciting new project from MacMillan -- a contest that might be best described as YA-meets-American-Idol.
Here's Sandy, charming us with details of the romance between college students Lea and Gabe -- and also sharing her experience on this journey of writing and publication.
Fun factoids from the evening:
• Sandy had been working in libraries since she was 16 years old.
• She loves and values having "a finger on the pulse" as a YA librarian now.
• She had written in the past -- and "failed NaNo for several years in a row."
• She also failed freshman writing in college -- which means "there is always hope for anyone!"
• Mostly she wrote fanfic. (For Glee!)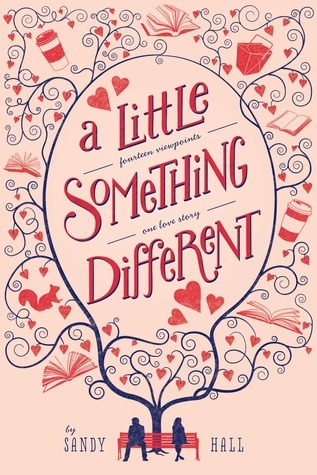 • Last fall she saw the call from Swoon Reads for manuscripts, consulted with one of the teens she knows ("What kind of YA romance do you want to read?"), and then sat down and started writing
A LITTLE SOMETHING DIFFERENT
.
• Sandy loves the Swoon community, which is full of supportive and enthusiastic readers and writers.
• Because of her fanfic background, the "crowdsourcing" aspect of Swoon Reads felt familiar to Sandy.
• When MacMillan wanted to call Sandy about her deal, her mom warned, "If they ask you for money, it's a scam!"
• Working with MacMillan was a dream come true, and they helped her edit the story to be even stronger.
• They reduced the number of POVs, and also made Lea a freshman instead of a junior. This basically required rewriting half the story.
• ALSD is definitely a YA story, even though it's set at "Fake Rutgers."
• Now Sandy is working on something new, and it is for MacMillan again, but it probably will not feature multiple POVs.
• She likes to write early in the day, and probably averages 1,000 to 1,500 words. (But on a good day, she
can
write double that!)
• Chuck Wendig's blog
Terrible Minds
= her Bible. She particularly relies on (what Chuck calls) a "vomit draft," in combination with her own system of index cards (which you can see pictures of in ALSD).
about us
social
on the shelf
© 2011 All words & images above are the creation/property of We Heart YA unless otherwise credited. Powered by
Blogger
.
have a heart